Job Seekers
The purpose of a job résumé is to market your work skills in order to get the attention of the person interpreting the information. Constructing a written résumé is actually a very unusual form of literacy that has different rules from other forms of writing. For individuals who struggle to articulate their skills and knowledge effectively in the written word can mean giving up. However, the Digital Story Resumes provides a practical and effective solution for resume construction. The DSR assist job seekers in need of resume support.
The benefit of the DSR for the Job Seekers
Digital Story Resumes offers a viable solution for job seekers who need help writing resumes or find it challenging to convey their skills and knowledge effectively. By providing the option to use photos, your voice or video as a mode of communication, these resumes enable individuals to showcase their abilities without solely relying on written words.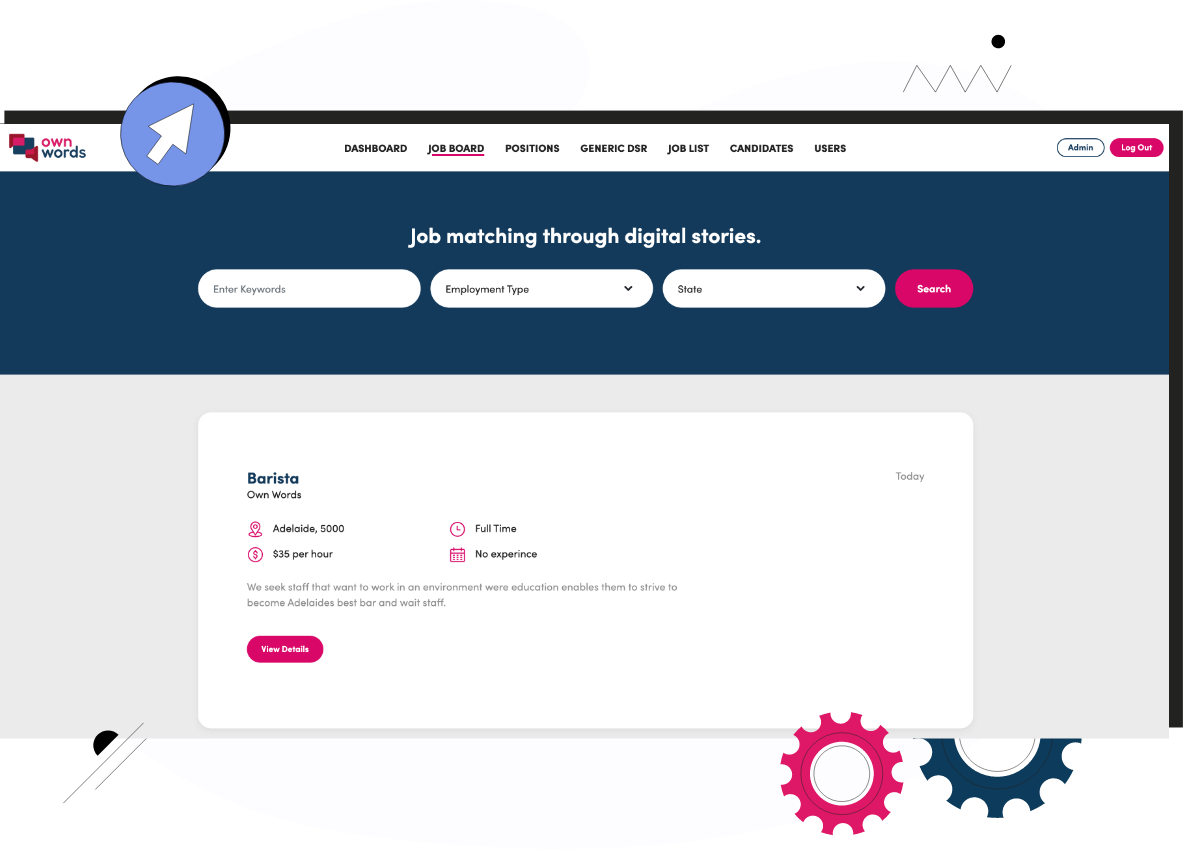 A new era in applying for a job.
Moreover, DSRs can be easily shared with potential employers, recruiters, and networking contacts. Rather than sending a bulky PDF or printed resume, job seekers can simply share a link to their DSR, allowing employers to access their information from any device, anywhere, at any time. This makes it easier for employers to review applications and increases the chances that job seekers will receive a response in a timely manner.
Another advantage of using DSR's is that they are optimized for mobile devices. As more people use their smartphones and tablets to search and apply for jobs, it's essential that job seekers have a resume that is easily readable on smaller screens. DSR's are designed to be mobile-friendly, with responsive design elements that adjust to the size of the screen, ensuring that your application looks professional and polished no matter how it's accessed.
Guide the job seeker
The job matching platform of Digital Story Résumé represents a state-of-the-art technology that is revolutionizing the job application process for job seekers. Using skill and knowledge matching techniques, this ground-breaking platform guides the job seekers to produce customized and compelling resumes in a multimedia-rich format, thereby enhancing their employment prospects.
Use media to express yourself
Applying for a retail position, can be challenging to articulate how to display merchandise with words alone. However, you can effectively demonstrate this skill by creating a simple display that includes the following steps:
Choose a theme that aligns with the product category or brand identity.
Select merchandise that you want to showcase and ensure that they are clean and in good condition.
Decide on the location of the display by considering high-traffic areas and visibility.
Set up a backdrop or a display stand that complements the merchandise and highlights its features
Arrange the products in an appealing manner, using props, lighting, and other visual merchandising techniques to draw attention to the display.
By producing a simple display, you can showcase your ability to create a visually appealing resume, which is a valuable skill in the retail industry.
Apply for a job from any device
No matter which device you choose to apply for a job, be it a laptop, tablet, or smartphone, you can effortlessly access and modify your Digital Skills Resume (DSR) if you have an internet connection. By utilising the MY DSR template or skills matching with a job an employer has advertised for, you can take your time to contemplate your skillset and how you want to present it. This grants you the flexibility to work on your application from any location, whether it's at home, work, or while you're out and about.
Handle all job applications through Own Words
Employers may ask for skills in varying ways, but our pre-populated platform is skill competency-focused for each job. This means that you can use one DSR multiple times.
Our platform helps you highlight your skills and experiences in a way that's relevant to that job you're applying for.
Gone are the days of crafting a new resume for every job application. With Digital Story Resume, you can create a strong skill foundation that applies to may positions. This saves you time and effort while still presenting yourself as a qualified and competent candidate.
Stunning design, seamless user experience
Experience the visually appealing design and user-friendly interface of Own Words, offering a seamless and enjoyable user experience.
Personal Brand Portal to view job applications
The Digital Story Résumé is your own personal branded portal, the one-stop solution where you can develop your own Personal Brand to fit your skills.
Develop a strong personal brand: Just like companies need to have a strong brand, so do individuals. It's essential to showcase your skills, experience, and unique qualities to make a lasting impression on potential employers. Your personal brand is how you present yourself to employers, and it can make a significant difference in your job search.
View submitted DSR
Our platform enables you to view the number of job applications you've submitted and to which employers, providing you with an easy-to-use evidence based system that proves you've been actively applying for work.
This feature helps you keep track of your job search progress and provides concrete evidence that you've been actively seeking employment. You can use this information to demonstrate your job search efforts to potential employers or other service providers, giving them a clear picture of your job search activity.
By using our platform to keep track of your job applications, you can easily show that you're taking proactive steps towards finding work. Join Digital Story Resume today and start building a strong job search record.
Update the status of each application
By an employer updating the status of each job application, you can easily track the progress of your application and alleviate any worries about its status. Our platform allows you to stay informed about the status of your applications, so you know exactly where you stand in the hiring process. Whether it's a confirmation that your application has been received, an invitation for an interview, or a regretful notification that the position has been filled, you'll be the first to know.
Easy job creation editor
When you are ready to apply for the position, it's as easy as click on the cloud with the arrow and open your camera to take a photo or video, then it will automatically upload, then add some text or a voiceover press save and move to the next frame.
Get in touch today to find out more…